Designed with love!
Our Grower's Choice Subscription freshly picked and delivered to your door every month.
Shop Now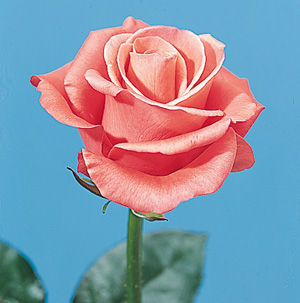 Common Name: Rose, Hybrid Tea, Sweetheart, Spray Roses
Botanical Name: Rosa spp. and hybrids, ROW-za
Decorative Life: From 4-16 days.
Harvest Instructions:
Harvesting flowers just one day too soon can result in ~37% less water going through the region right below the flower thus greatly increasing the chances for bent neck. Cultivar and root stock decision can greatly influence postharvest characteristics. If irrigation water is used that is at a lower temperature than the production air temperature, stomata development can be altered and thereby result in flowers that do not last as long a vaselife compared to plants irrigated with water at or above the production air temperature. Flowers produced under warmer night temperatures (~63F) opened better after harvest than those grown cooler night (~55F) night temperatures. Flowers grown in greenhouses with air movement of 30 feet (9.1 meters) per minute or more will develop about half the Botrytis infection compared to no air movement. At about 18 feet (5.5 meters) per minute infection is reduced by about 15%. The vaselife of 'Garnette', 'Zorina' and 'Bacarra' decreased as growing temperatures decreased. The best vaselive was obtained when flowers were grown at 70-75F. Vase solution uptake is improved for warmer grown flowers. For example, roses grown at 75F took up about twice as much vase solution as ones grown at 54F. Roses grown under low temperatures can have more chemicals in their leaves that can reduce flower live when they leach out of leaves that are below the water line in vases or buckets compared to roses grown at higher temperatures.
Storage Specifics:
Best at 32-34F, wet or dry for 1-2 weeks. When 'Ambiance' was held wet or dry between 32 and 50F, no difference in vaselife was noted between wet and dry at a given temperature. However, there was an advantage for wet holding when held at 55F. Therefore, dry storage/transport is recommended unless exposure to high temperatures (>40F) is possible. Controlled atmosphere (low oxygen and/or high carbon dioxide) storage of 'First Red' either was of no benefit or was detrimental
Tidbits:
Cut flowers sold in several forms: hybrid tea (large, one flower per long stem), sweetheart (smaller, one flower per shorter stem), spray (several small flowers on branched stem).
Even in the Middle Ages, when most plants were grown solely for practical or medicinal purposes, the rose was cultivated for its beauty alone. Yet, the rose "hip" or flower base has been known for many years as a source for vitamin C.
Today there are hundreds of rose cultivars. With names like "Ingrid Bergman," "Movie Star," "Lipstick", "Sexy Rexy" and "Vogue," we are reminded of what the image of the rose evokes"feelings of romance, passion, enchantment and fascination. You cannot go wrong making a loving statement with roses. The American Academy of Allergy, Asthma and Immunology lists this species as an allergy-safe pollen producing plant. According to Creasy (1999), fresh petals are edible. Can be used in jellies, rose water, vinegars, honey, syrups, salads and sorbets.
Rose cultivars are often known to consumers because this is nearly the only flower sold by florists that retain their cultivar names. Common ones include Madame Delbard and Visa (red), Osiana (peach), Aalsmeer Gold (yellow), Eskimo (white), Tango and Mercedes (orange) and Peckabo and Sonia (pink). More non-red cultivars should be marketed based on consumer research.
Problems and cultivar examples include bent neck (Cara Mia), improper opening due to ethylene (Royalty) or too many petals (Classy), petal drop due to ethylene (Lovely Girl), breaking at upper leaf node (Visa), petal blackening (Royalty) and entire flower fall (Osiana).
Recent Research Findings:
Using 'Scarlet Pimpernel', Williamson et al. (1995) showed clearly that relative humidity above 94% stimulated Botrytis development on petals within 24 hours at 60F, even when no free water was present on the petals! This finding goes against the common belief that free water had to be present for the disease to develop. Using 'Sonia', de Stigter (1980) showed that ~50% of the water loss of a cut rose is via the petals with the remaining ~50% via leaves. Using 'Sonia', Ferreira and de Swardt (1981) showed that flowers with all leaves removed lasted 12 days in flower food and 10 days in deionized water. However, with 4 leaves remaining, those in flower food lasted 16 days and 6 days in deionized water. The end result is to make sure that at least 4 leaves remain on every stem and flower food is utilized.