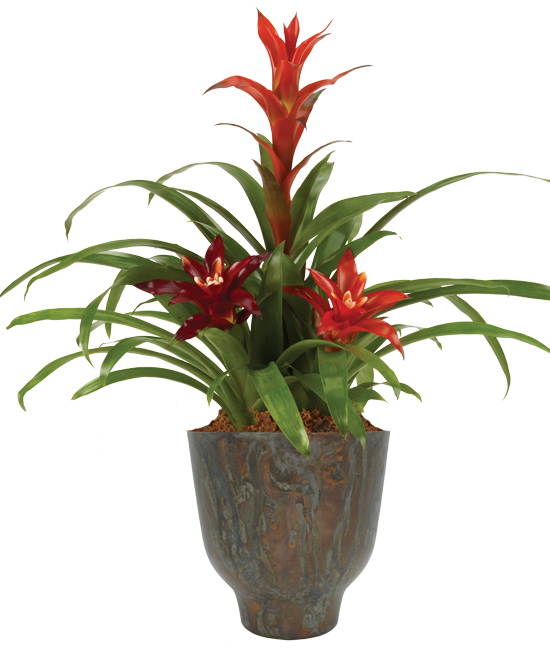 Integrating fresh flowers and plants into your workplace is a great way to brighten your work environment, especially as the days get shorter. Whether adding plants to keep your office looking bright or sending a bouquet as a surprise gift to coworkers or clients, there are a few aspects to consider, like longevity, freshness, and the office space itself.
Long-Lasting Flower Arrangements and Centerpieces
The secret to long-lasting flower arrangements and centerpieces lies in choosing flowers and plants that can withstand the test of time. Incorporating roses, lilies, and orchids into your office décor allows you to enjoy the beauty of fresh flowers and plants for weeks. 
Centerpieces with living green plants, like our Living Succulent Candle Ring, can last longer than bouquets. Our Autumn Bromeliad Garden is a vibrant choice for fall as the dark green leaves drape beside the bright reddish hues surrounding a yellow-centered bract. It is also a hearty plant that can withstand interior climates, making these pieces easily adaptable in any office.
Caring for Office Flower Arrangements
Care is also necessary to keep in mind when adding plants or flowers to an office. An office flower arrangement or plant that requires less maintenance is usually preferable in a professional setting. With busy workloads, remembering to water plants or being mindful of complex plant care instructions can often be challenging.
Offices often lack abundant natural light, making it difficult for delicate plants that need a lot of sun. Low-light plants like our Global Green Philodendron Plant are an excellent option for easy care.
Fresh flowers always invigorate any indoor space, and because bouquets have shorter lifespans than plants, there is always the option of ordering fresh blooms often to keep things feeling new.
One bright option is our Tropical Sensation Bouquet, which captures the essence of fall with bright red colors and gold-dusted leaves. The tall vase this bouquet arrives in provides more structure and shape, so rearranging stems and watering is convenient.
Corporate event centerpieces with succulents are the simplest to care for and are often made of living elements, making them ideal for office settings. They are also a perfect way to add décor to a conference room or large table that needs something festive.
Your office arrangements should feel inviting to your clients and your employees. Calyx Flowers is pleased to offer quality plants and flowers. Find the ideal fit for your office style,  and shop our office floral arrangements and gifts collection.