Spring has sprung! The days are getting longer and a little green may be poking out from the earth where you are. This also means many brides to be are in the throes of spring wedding planning. The season of light and new beginnings, spring weddings are ever-popular and we love the opportunity it brings for floral variety. An additional bonus is spring always comes with an undercurrent of winter drama, as it is a transitional season, and gives us a lot of elements and choices to work with.
Speaking of Drama…
Dramatic statement entrances and flower walls continue in popularity this spring. The modern aesthetic we saw in winter weddings is transitioning to this new season. In winter, modular lighting and geometric structures were all the rage but for spring, modernism translates into flowers with door framing flowers, stunning arches, and other creative floral designs that are both breathtaking and eye-catching.
These larger installations work well for both indoor and outdoor weddings and will transform any wedding location. This works particularly well for those looking to completely convert a venue or would like to add more nature to a more industrial space. Choose some of your favorite bulk flowers and add them to an outdoor gazebo or around doors and entryways indoors for pops of color. This can also help create a beautiful focal point for guests and seamlessly guide them from ceremony to reception.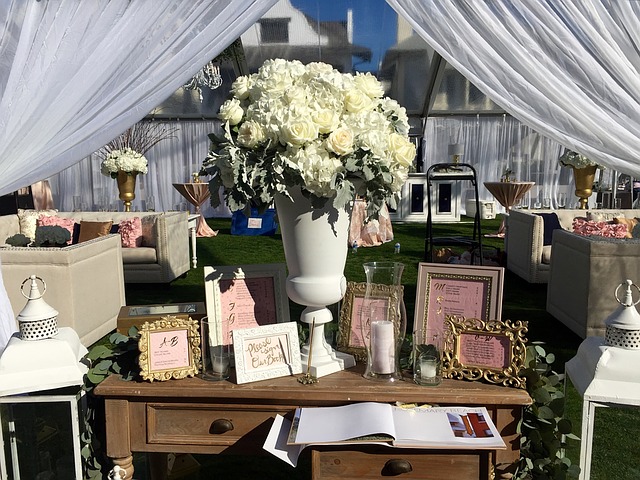 For something truly over-the-top, hanging flower installations are something to think about. Imagine entering a room with a grand arrangement hanging above! Or a floral centerpiece at the guest book. This adds dramatic effect and really kicks a party off. It is an unexpected way to incorporate flowers into your overall wedding décor and add an element of surprise. Envision walking into a reception and looking up to a beautiful floral chandelier! For crafty brides, this is a great idea. Simply purchase a floral frame ring and weave your flowers into the ring to put together something elegant and gorgeous.
Flowers as a Theme
Spring is synonymous with nature budding so flowers for spring weddings are a no-brainer. And incorporating floral themes and elements is incredibly charming. Spring is often the season of garden luncheons and tea parties, and for this very reason flowers and greenery become easier to procure this time of year. Spring also brings about a feel of whimsy and cheer, and floral arrangements and centerpieces reflect this.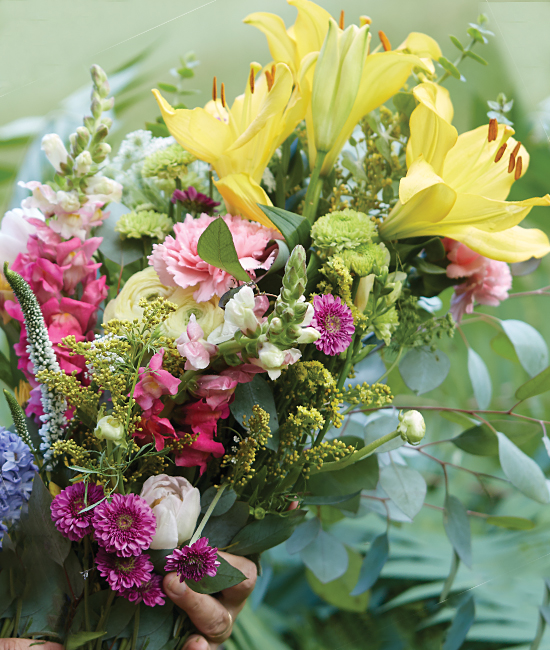 A popular way many brides are taking this on is throwing a "flower party" as a part of their wedding weekend events. As is traditional, many brides have schedule of events with her bridal party from brunches to getting hair and make-up done together. A new event to add is a flower party where the bride and her girlfriends or bridal party gather to arrange their own bouquets or arrangements. The trend towards looser, over-sized bouquets gives brides a little more leeway so flower arranging can become a fun activity where the bridal party can pitch in and get a little creative.
Purchase your favorites in bulk, a few fun vessels, and ribbons and spend a few hours together creating beautiful wedding flowers and some lasting memories before the big day.
It's All in the Details
If the pressure of making a bridal bouquet or important centerpiece is too much, there are other, smaller-scale ways to create your own floral looks. Smaller floral accents can give a wedding a more personal feel. Instead of packets of rice, leave a basket with sachets of your petals for guests to toss in the air. Use your favorite petals or accent flowers that are being used in other parts of the event to keep things cohesive.
Another great yet unexpected place for flowers is on escort or seating card displays at a reception. A small spray rose or stem pinned to a card is a charming keepsake or build a striking arrangement that catches guests' eyes so they are able to easily find their seating assignments. Garlands with large, billowy hydrangeas across a seating chart draws attention as do taller bouquets  with large blooms in vessels that elevate the bouquet.
These little details will tie the whole event's décor together while adding thoughtful touches to make guests feel welcome and having the wedding feel welcome and personable.
Spring Simplicity
While statement entrances and larger installations are currently in style, contrasting these elements with simple décor and place settings is a popular way to keep the décor from getting out of hand. The beauty of spring wedding flowers is the range of colors and types there are to work with. As spring still sometimes embraces winter's chill, rich, dark accents like mercury glass and eucalyptus still have their place.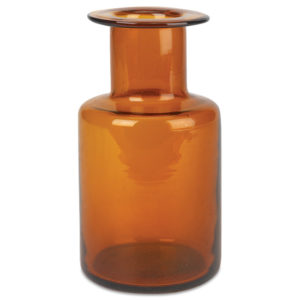 Single stems in dark, amber glass or strewn across a plate will keep things from going over the top with fuller and more dramatic arrangements in other parts of the venue. This also allows more table space so guests don't feel cramped between floral wedding centerpieces.
And keeping things simple doesn't mean boring, especially when combined with the other gorgeous floral trends we foresee happening this spring. Pops of color or little floral surprises here and there keep things lively and are the perfect metaphor for a spring wedding: like a breath of fresh air and new, bright memories in the making.