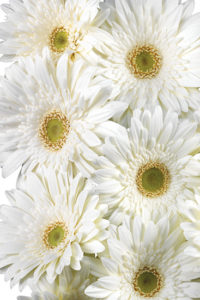 As the days are starting to get shorter again, we realize that fall is right around the corner. This is the perfect time to reflect, move indoors, and start new projects. While beginning to pack up our sandals and white denim, we've become inspired to combine our light summer hues while transitioning into fall's warm and subdued color palette. With this in mind, we've come up with a few projects that celebrate white after Labor Day.
Our first project errs more on the summer side; after many summer visits to sandy beaches and lakes, put your shell collection to good use! Perky daisies add an unexpected touch of whimsy and nautical style to a wide mouth shell. Create your own with our white Gerbera daisies in a clean shell (we find conch shells and nautilus shells work best). Trim up your daisy stems, and fill up the shell with the daisy heads cascading out from the top, and voila! A quick and easy way to keep summer memories in your home as the green leaves turn to gold outside.
From seashells to gourds, we've found that pumpkins can serve as a wonderfully festive vase and centerpiece. For our second project, you'll need a small to medium sized pumpkin or gourd, a small container for water, carving tools and a scoop, some scissors for trimming stems, an d some gorgeous white blooms. You may also want additional flowers or greenery for your design; try burgundy-hued mums, sprigs of eucalyptus or bright colored berries.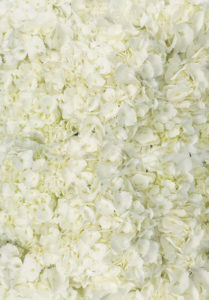 Begin by hollowing out your pumpkin à la Jack-o-Lantern. Once you've scooped out the pulp and seeds, we recommend taking steps to preserve your pumpkin, so that your centerpiece will last longer and not ruin your flowers with rot. Next, place a small container inside with water. Not sure what type of flowers to fill your gourd with? We love soft and billowy hydrangeas in white, their intricate textures will contrast the smooth surface of pumpkins, or if you're looking for a more luxurious feeling bloom, try our cream-colored roses. Add soft sage greens and sprigs with berries for warms and texture. Remember to replace the water every few days to keep your flowers fresh.
We would love to see your floral projects and arrangements. Let us know if you've tried one of our projects, and share it with us on Instagram! Tag your photos #calyxflowers.