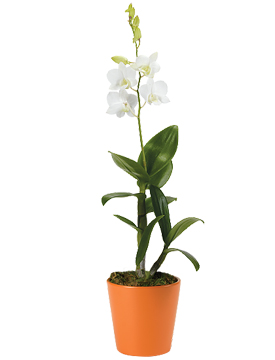 Daylight Savings Special Offer from Calyx Flowers
Being a Luxury Rewards Member definitely has it perks and this weekend is one of those times. Calyx Flowers is offering customers the chance to "Spring Forward" this weekend and send our fabulous Spring Orchid Plant for only $19.95.
This truly special orchid is of the Dendrobium variety, yet it surprises with atypical blooms resembling those of the phalaenopsis. Nestled in a terracotta cachepot, the beautiful orchid makes a wonderful gift for any spring occasion. This is a limited time offer, so you need to hurry and shop now to receive this exclusive product and unprecedented savings!
Fun fact: Orchids have long been highly sought after, probably for the unusual beauty of their design. Orchid hunters in the nineteenth century collected them by the ton, and chopped down as many as four thousand trees at one time for the Orchids growing on them.