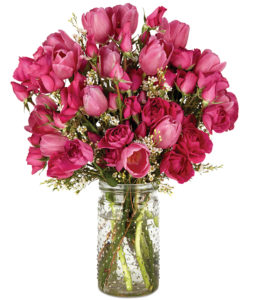 The wax flower hits all the marks this year for upcoming weddings and events. Wax flowers have a romantically rustic feel and give off a pleasant, lemony-scented aroma, making them a perfect addition to a table centerpiece arrangement or floral crown. And as the wax flower holds deep symbolism, representing riches and long-lasting love with its hardy blooms, it also holds a lovely meaning.
As we are halfway through 2016, we've noticed a couple trends that have been holding steady. At the beginning of this year, Pantone announced that they chose Rose Quartz and Serenity as the two (!!) 2016 Colors of the Year, signifying that the Ombre trend is here to stay.  The Rose Quartz and Serenity scale moves from a gentle pink to a cool blue for a soothing balance that can also be seen in a variety of wax flowers in terms of gradient and coloring. Additionally, for those thinking ahead to rustic fall and winter weddings when bright blossoms are no longer in abundance, the wax flower is a great flower filler for larger bouquets and arrangements. As the Wall Street Journal states, "it takes years for color trends to take hold," so you won't have to worry about being off-trend.
From the Geraldton, a pink wax flower, to the Alba, a pretty white wax flower, you can pick and choose just where on the Rose Quartz – Serenity scale you fall on.  No matter where on the spectrum you fall, the wax flower is as symbolic as it is affordable, making it a lovely alternative to the more traditional baby's breath for a colorful and cost effective choice.
Wax flowers are delicate enough to be an accent flower while remaining durable, making it a versatile plant for anything from boutonnieres to floral bridal crowns. If you were interested in seeing how wax flowers work in an arrangement, take a peek at our Hot Stuff Bouquet. Or, make one yourself by pairing wax flowers with lovely pink peonies or other premium bulk flowers from our collection of luxury DIY flowers to send a message of deep affection and good fortune.