We've gathered our favorite on-trend flowers for fall in a bevy of beautiful colors and varieties!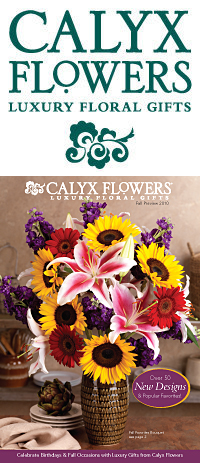 Featuring luxuriant wreaths, bountiful baskets and tabletop centerpieces.
Colorful pairings of sunflowers, lilies and more.
Exotic orchids in an array of autumn colors add attitude and sophistication to the home.
Best buys – blooming chrysanthemums make a statement in an array of colors.
After a summer season filled with bright colors its time to tone down a little but not too much. Our fall collection of flowers, plants and preserved designs has arrived in full force in jewel-tone shades like no other time before. Our cover look, Fall Favorites Bouquet, showcases the brilliance of this time of year with four outstanding hues – red, yellow, hot pink and deep purple. And don't forget my personal choice of the Orchid Blaze Bouquet. It's a look that's all autumn – four different varieties of orchids in fiery shades of tangerine, yellow, browns with hints of burgundy here and there.
Look for the new September catalog in your mailbox the week of September 6th. I'm sure you too will be excited by all the new varieties and colorful combinations.
Send the season's trendiest bouquets. Visit CalyxFlowers.com & we would love for you to check us out on www.Facebook.com/calyxflowers.