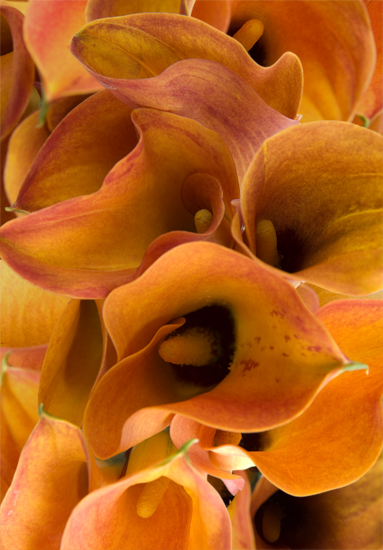 As the leaves turn and the weather cools down, we are excited to turn our attention to fall weddings. Fall brings cozy, intimate gatherings to mind and a warm, deeper-hued floral palette to match. For those looking to host a truly special event, we suggest you explore the beauty of calla lilies for your bouquet, décor, and centerpieces. 
Summer weddings may be over, but our lush, colorful blossoms are not. When planning your big day, you can still take advantage of seasonal flowers that are both beautiful and bright. Bouquets with these timeless lilies bring a touch of elegance and sophistication to any ceremony.
These majestic flowers, with their long, graceful stems and stunning trumpet-shaped blooms in shades of ivory, pink, purple, or orange, are the epitome of timeless beauty for any bride. Their velvety petals add a sense of luxury to any wedding arrangement or centerpiece.
Calla Lilies: Symbols of Faith and Devotion
These ubiquitous lilies are a classic wedding flower and are in season for autumn weddings. Bouquets with lilies have always been a favorite wedding choice, with good reason. A symbol of faith, devotion, and new beginnings, this type of lily bears the celebratory shape of champagne flutes, creating an excellent wedding flower full of meaning while remaining festive and striking.
While the trend for summer bouquets has been leaning toward free-form bouquets with relaxed fillers, fall ushers in a more structured look to bouquets. For those looking to stray from summer trends, bouquets with lilies provide the perfect opportunity to add more flowers with fewer fillers to create the structure and brightness for which lilies are known.
Pairing Calla Lilies with Autumn Blooms
When paired with other autumn blooms like mums and dahlias, wedding bouquets with calla lilies add a touch of refinement to your fall floral arrangements. Whether used as the focal point or mixed with other seasonal blooms, lilies effortlessly create an atmosphere brimming with romance and charm. So why limit your choices when it comes to floral arrangements? Embrace the magic that these lilies will bring to your special day!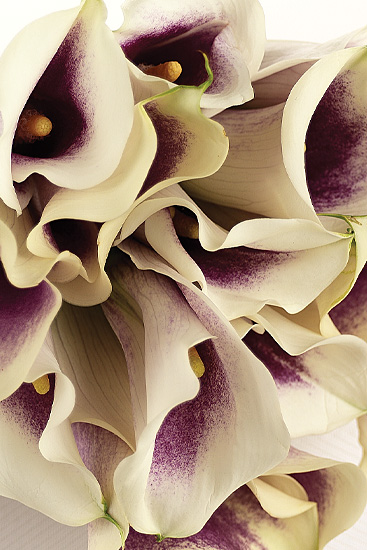 Crystal white Miniature Calla Lilies offer the purity expected in a wedding flower while balancing the accents of the earthy colors of the autumn season. Combining orange or red blooms into a bouquet or in centerpieces adds a warm yet subtle peace. 
Another lily, the Picasso Miniature Calla Lily, provides a different feel. A bi-color lily, this sophisticated stem is dark and striking for a unique twist on a traditional wedding flower. With two contrasting shades, our Picasso lilies work well with almost any bouquet or decorative arrangement color.
Find the Perfect Calla Lily at Calyx Flowers
Special occasions demand the most exquisite flowers to create an atmosphere of pure beauty and elegance. When finding the best calla lilies for your fall wedding, look to Calyx Flowers. With over 30 years of experience and a lasting commitment to offering premium blooms, you can count on us to deliver on your big day!
Contact us to discuss your floral options if you need help choosing your perfect wedding flowers. We would be happy to share in making your special day a success!