The beauty of flowers make them a natural consideration when it comes to celebrating life's special occasions. Most of the time we think about these events as happy or monumental moments but flowers also play a part in the not-so-happy times that we all face. This past weekend I traveled to the Bahamas to attend a funeral for my dear friend who had passed away after a valiant fight with breast cancer. It's funny how flowers have played a significant role in both of our lives and it is where I found the most comfort at her service on Saturday.
Tracy and I were first introduced as college roommates. We developed a lasting friendship that spanned the last two decades. In school neither of us had planned to pursue a career in the floral and gardening industries yet that's where life took us both. For me its been with Calyx Flowers the last ten years as the designer and for Tracy it was packing up to move to NYC to study landscape architecture and design at the New York Botanical Gardens. It was during her studies there that she learned she had cancer and her four-year long battle began.
By joining forces with Susan G. Komen for the Cure in New York, she became the 'face' of breast cancer. For the past two years, Tracy's beautiful photo hung in Central Park in New York City during the Susan G. Komen Race for the Cure for thousands of women to see. I had the privilege of attending the 5K event with Tracy twice and marveled at the photo – which was taken at the Botanical Gardens – and showed her surrounded by roses. Flowers were enhancing the beauty of a woman filled with great resilience and determination to beat cancer.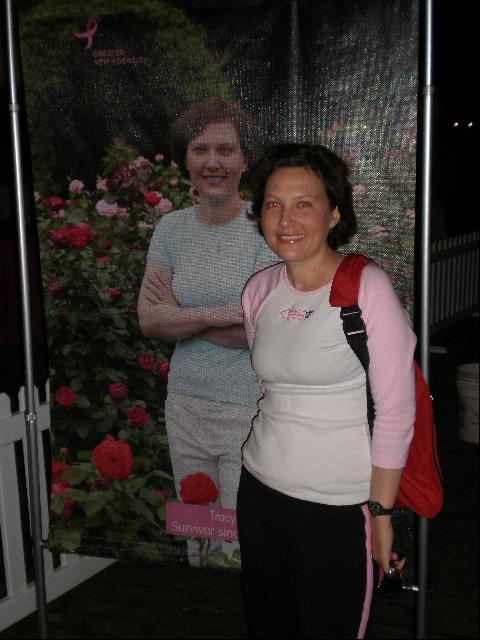 I will forever cherish Tracy as a friend and I will miss her. She showed more grace in the face of such a horrible disease than I could have ever imagined and her strength, courage and fight was incredible. I will carry her memory with me forever. I captured a few pictures of a bouquet of Tracy's flowers on Saturday. She would have loved them – the color, the different textures and shapes. I know she's in the grandest of all gardens now, free from illness and in that I find much happiness. Rest in peace Tracy.