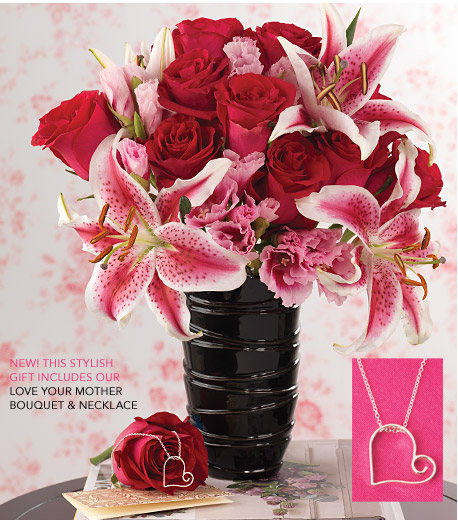 For the first time Calyx Flowers is offering a gorgeous gathering of flowers for Mom along with a beautiful handcrafted necklace for Mother's Day in our Love Your Mother Bouquet & Necklace. It's a gift that is sure to complement her style and we think sending two gifts is always better than sending one, especially when the recipient is someone as worthy of your love and appreciation as Mom.
What made us create such a gift set? It was during one of our buying trips that we came across the stunning, handcrafted sterling silver heart necklace from Lotus Jewelry Studio. It immediately caught our eye and we were even more enamoured when we found out it was made in the USA. They feature a complete line of alluring handcrafted designer jewelry made from the finest gems and materials.  With a laid back stylish attitude, they like to keep the jewelry fun and playful. Fashion forward customers appreciate Lotus' impeccable craftsmanship.
So this Mother's Day (May 8th) consider surprising Mom with the unexpected gift of flowers and jewerly. She'll LOVE it, and will love you for being so thoughtful.