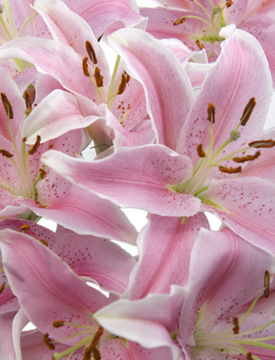 LILIES
They are soft, star-shaped and simply irresistible. Sorbonne Oriental lilies are adored for their large blooms and intoxicating fragrance. In fact, this sugar pink lily with white-edged petals is known for making a statement whether displayed in a big bouquet or among other flowers in a beautiful arrangement. Lilies are easy to arrange and you can gain much inspiration from this flower.
The Sorbonne Oriental lily is a part of our Weddings & Events collection where the variety is offered year round in bulk quantities.
FUN FACT
Each wedding anniversary has a designated flower.The Lily is the traditional 30th Anniversary flower.