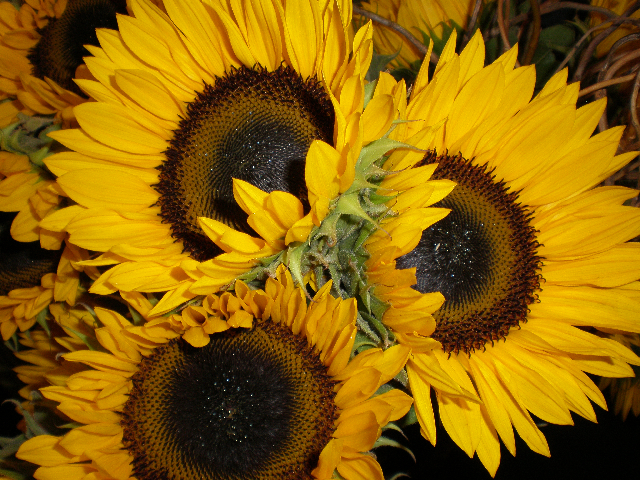 Warm yellows with bronze and black centers make it easy to see why sunflowers are such a wonderful, showy summertime flower. I love to see them mixed in a bouquet with fun flowers like Gerbera daisies or sassy roses but I'm also partial to a big bunch of sunflowers in an interesting pitchers. I've created a look for our Summer catalog that will be finding its way to your mailboxes next week – check out the Sunflower Sensation Bouquet.
Sunflower Trivia
Did you know that there are over 100 different varieties of sunflowers?
Sunflowers are native to North America and Kansas is the Sunflower State (wild sunflowers are a weed issue there).
Sunflowers are grown in all shades of yellow, some varieties are rust and brown in color while others can be dyed a certain shade (we call those color enhanced).
It's possible to purchase sunflowers in three of the four seasons (sorry winter) with summer being their predominant season.
A sunflower grown in the Netherlands holds the record for being the tallest sunflower in the world. It measured 25 feet, 5.4 inches. (Source: 2004 Guinness World Records)
For more information visit the National Sunflower Association website.