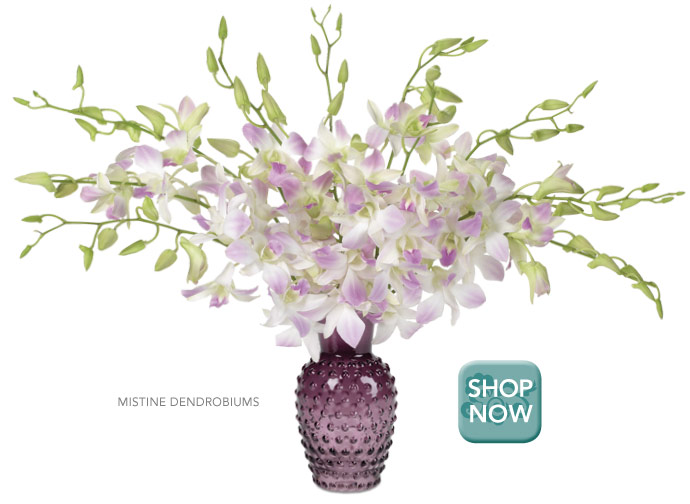 It doesn't happen very often, so here's a chance for you to send a beautiful bouquet at a significant discount. Today through August 19, 2011, Calyx Flowers is offering the exotic Mistine Dendrobiums at a $25 savings. Send the surprise of fresh cut orchids to your someone special right now and they will receive a ten stem bouquet along with our petite amethyst hobnail vase (a Calyx exclusive).
Did you know that Orchids have long been highly sought after, probably for the unusual beauty of their design? Orchid hunters in the nineteenth century collected them by the ton, and chopped down as many as four thousand trees at one time for the orchids growing on them. Dendrobium is as an unusual name as it is word. It comes from the Greek "dendron" (tree) and "bios" (life) referring to the orchids' epiphytic habit of attaching to tree branches. The dendrobium family is generally believed to contain the largest number of species, somewhere around 30,000.
To take advantage of the August Luxury Rewards offer, click here and use code CFGS811 at checkout to receive your $25 discount.
Do you have a favorite Calyx Flowers' bouquet or plant that you would like to see in a future Luxury Rewards Grower's Special?