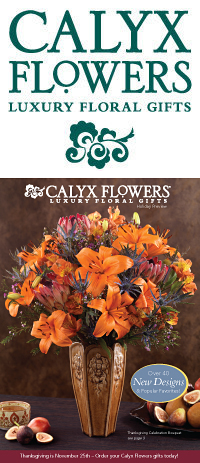 The clocks have fallen back an hour. The light is fading earlier in the evening. AND the new Calyx Flowers' November catalog should be finding its way into your mailbox right about now!
Thanksgiving is only 15 days away so we had the hunch that you might be looking for stellar floral creations to send to distant family and friends and to decorate your own holiday table. One of my favorites is the Harvest Bouquet featured on page 5 with lots bright flowers. It's a bouquet that is also very impressive in size and one that's sure to be noticed when the family comes knocking. Our cover bouquet is the delightful Thanksgiving Celebration Bouquet.
Inside the new November catalog you'll also find the debut of our Holiday Collection for 2010. Popular favorites like the Fresh Pomegranate Centerpiece and the Happy Holidays Orchids are back but I think you'll come to love our new designs like the Country Wonderland Bouquet and the Holiday Garden Wreath.
If you currently do not receive our catalog and would like to start, please Request a Catalog on our website today. Have a great day!