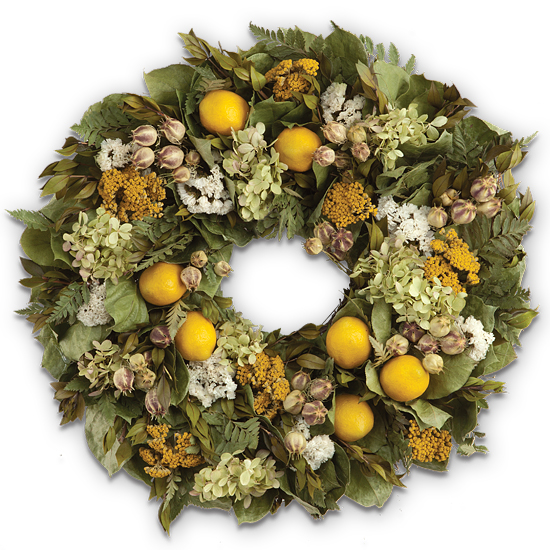 With the 4th of July holiday tomorrow it's time to think about the day's festive menu. With my new Lemon Wreath hanging on my kitchen door, I thought what a great inspiration! Tomorrow friends and family will be treated to scrumptious Lemon Coconut Bars and of course, getting to see my new wreath which is part of the Calyx Summer Collection.
If you would like to add a lemon recipe to your tabletop here's this tried and true dessert recipe for you. And if you would like to see more information on the Lemon Wreath simply click here. Happy 4th of July to all the Flower Lovers!
Lemon Coconut Bars
Dough Ingredients
1 cup flour
¼ cup powdered sugar
½ cup butter or oleo
Mix and press into an 8×8 inch greased pan. Bake at 350° for 20 minutes.
Filling
2 eggs (beaten)
½ tsp salt
2 T. flour
½ tsp baking powder
1 cup sugar
1 cup coconut
2 T. lemon juice
Mix and pour on partially baked dough. Bake at 350° for 30 minutes. Sprinkle with powdered sugar and cut into bars. Enjoy!