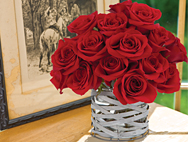 Love getting flowers from your guy at Valentine's Day? Are you thinking how great it would be for him to have that same warm feeling of love and appreciation? But then are you doubting whether or not a guy really wants to get flowers? Is it "not manly" to be a guy and a recipient of a bouquet of roses? STOP right there…you don't need permission!
The gift of roses or any other kind of flower or plant for that matter is a personal choice you've made especially for him and one that truly came from a good place in your heart. Sure there will always be some naysayer that says it's not cool to get flowers from a "chick" but at the same time I know a lot of women who have also made snide comments when someone around them receives a flower delivery. Could it be the green-eyed envy monster coming out?
When designing our Valentine's Day collection this year, we thought about the idea of having one specific bouquet for HIM. The idea came full circle when we happened upon a very modern and masculine-looking vase. Thus, Uniquely Him Roses was born. The vase itself is comprised of a cylinder glass insert that sits inside a wrapping of zinc metal. It's industrial and interesting all at the same time. The classic bouquet of red roses looks right at home inside the vase. It's appropriate for the boyfriend, the husband, the dad or even the grandfather. And if you send it to his workplace, it's guaranteed to be a water cooler topic of conversation.
We hope this helps if you were thinking of ordering your guy Valentine flowers. We're planning on making this bouquet available for all special occasions, year round. Dare to be different and do it. And please, tell us how it went as we would love to hear about it at Calyx Flowers.