Greetings Calyx Customers,
Calyx Flowers is now family owned.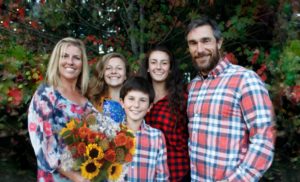 As the new owners of Calyx Flowers, Kathryn and I are delighted to present some exciting changes to improve your shopping experience. We have spent time listening to YOU and incorporating your ideas into these changes which include:
1. Cutting in half the overnight shipping fee charged on bouquets. Bouquets will now ship overnight for $15, always!
2. Emphasizing an increased diversity of product. We are expanding all product lines. With bouquets, in addition to exclusive designs, we are now providing Farmer's Market bouquets representing the best of the season. You will also see new plant offerings, including space saving hanging orchids and air plants accompanied by a wider assortment of distinctive bonsai.
3. Developing unique products and services. In this catalog, you'll also see stunning holiday bromeliads and heartwarming wreaths and centerpieces, along with limited edition vases and cachepots. Also, just in time for the holidays, we are excited to announce new services such as digital gift cards, electronic gift messaging, corporate programs and monthly subscriptions.
4. Building new systems. With the great efforts of our dedicated and talented team, we built a new website for easier shopping and faster check out. We have a new order management system and friendly call center service team to help place your order and answer any of your questions.
We hope you enjoy shopping with us! We realize you have several choices in today's marketplace and we thank you for your business.
We are always interested in hearing from our valued customers! We can be reached at customerservice@calyxflowers.com.
From our family to yours, we wish you a wonderful Holiday Season!
Sincerely,
Mark and Kathryn