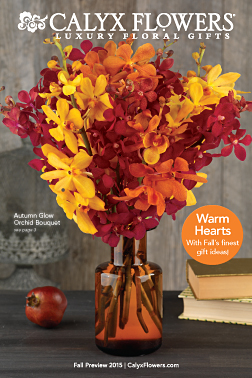 Autumn is right around the corner. The crisp air. The colorful landscape. The harvest.
We gathered inspiration from everything autumn to present our Flower Lovers with a array of show-stopping floral designs that celebrate the season's abundance. In a bow to tradition, we're featuring the brilliant Autumn Glow Orchids on our cover. Customers have told us year after year how this trio of exotic orchids makes the perfect gift to give during the months of September and October. We've paired the bouquet with an amber apothecary inspired vase.
Look for your catalog in this week's mail.