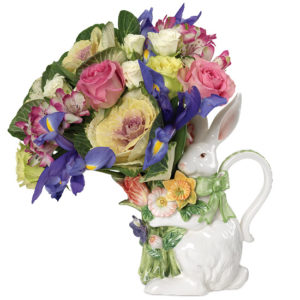 Hop to it! Ordering for Easter is always easiest when you do it early. And speaking of early, Easter is Sunday, March 27th this year which is only one week after the first day of Spring. It makes me giddy to think about all the blooming that's ahead of us!
Easter is a beautiful, fun holiday. It's always provided lots of inspiration to work with as well as a plethora of colors and textures from which to choose.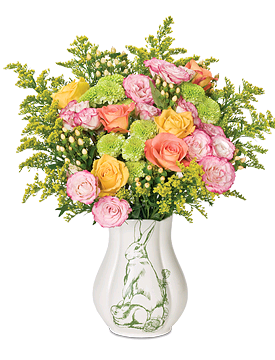 One bouquet above all others has always stood out during this time year and it's a classic mixed bouquet, The Bunny Bouquet. Not surprisingly, according to a National Retail Federation survey, mixed flower bouquets take the top spot in the fresh cut flowers category with consumers at Easter.
The Bunny Bouquet debuted back in 2006 when I had happened upon a pitcher with a simple rabbit depiction on it. With the addition of pastel flowers it instantly became a favorite with our customers. Its look has been updated from time to time so that it stays just as "fresh" as the flowers in the bouquet's recipe.
Today's design features a beautiful keepsake, hand painted pitcher filled with lots of springtime blooms. The bunny pitcher is a fine statement piece and can be enjoyed for years to come. Every time I bring my pitcher out to start the Easter celebrations I smile. It always adds brightness to my family's day.
Please enjoy this look back to one of the very first Calyx "Bunny" designs.