Summer is definitely wedding season, and Calyx Flowers is proud to play a part in many couples' important day. Here's a picture from a summer wedding last year showcasing our canary yellow Skyline roses, beautifully surrounding a pillar candle. The look is romantic and seasonally appropriate. No doubt the guests felt the warmth and love throughout the reception.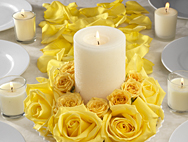 Today's wedding flower choices are unlimited for the do-it-yourself bride. You'll find you can create bouquets in perfect pastel shades and centerpieces of electrifying orchids in intense, bold colors any time of the year. Many DIY divas are also adding sparkle and ambiance to their creations with gemstones, crystals, candles and tealight votives.
Do you pay extra attention to the flowers in special events such as weddings? Are there any arrangements that were really memorable?