Avoid the crowded shopping lines & still receive an amazing free gift at CalyxFlowers.com on Black Friday.
Bring on the holiday season! We're ready to get blooming at Calyx Flowers with an exhilarating array of new Christmas designs, Hanukkah flowers and festive holiday plants. That means easy gift-giving for everyone on your list whether it be family, friends or business associates.
Our designer loves to send our Holiday Joy Orchid as a thank you gift and even totes it along to holiday parties for the hostess.  You can send this and any other Calyx offering now through midnight with the added extra bonus of FREE SHIPPING. Simply use code CFFRIENDS when you checkout.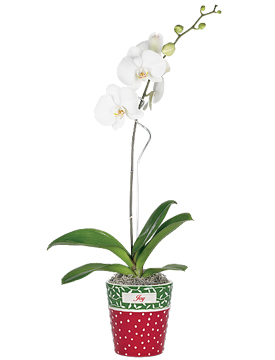 Plus, you could win a LUXURY BOUQUET from Calyx Flowers when you sign up for our Luxury Rewards email program. It's a great time to join so you can get in on all our limited-time holiday specials and savings offers. A new bouquet winner is selected every month. Click here for all the info you need to enter.