Each Wednesday Calyx Flowers is going to highlight the very best in flowers. It could be an elaborate floral display in London or a simple but eye-catching way to use flowers that we think is brilliant. It could be the floral pattern from a high fashion designer to a lively look at flowers from an obscure artist. We encourage all of our Flower Lovers to get involved and submit ideas for this new, weekly blog post. Read on to find out who was awarded the very first "Best Flower"!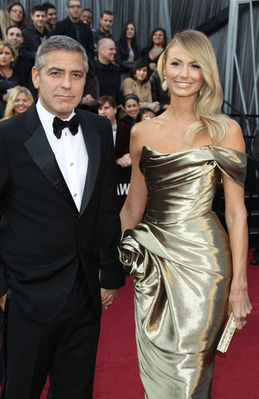 And the "Best Flower" at the 2012 Academy Awards goes to… Stacy Kiebler. George Clooney's date to the Oscars this year wore a stunning gold Marchesa gown. The floor length creation was simply spectacular as the rouching in the gown was designed into the shape of a flower at the side of her waist. It was unexpected and we loved it.
Remember, we would love to hear from all of our readers. Send us your ideas for "Best Flower" today.