Could it be the luck of the Irish? Celebrate St. Patrick's Day this year and discovered a way to save on our new Lucky Day Green Dendrobiums , a bouquet of fresh-cut orchids. Now through March 14th, enjoy great savings of up to $15 off your order. The more you send, the more you save.
We created the Lucky Day Green Dendrobiums as an homage to St. Patrick's Day, a national holiday in Ireland that honors the patron saint of the country, St. Patrick. The bouquet of multi-blossomed orchids plays off the traditional emblam of this Irish holiday – the green shamrock. St. Patrick was known for using the 3-leafed shamrock to explain the concept of the Christian Holy Trinity. The orchid blossoms have been color enhanced to the same bright shade of green as a shamrock. O' so clever, don't you think!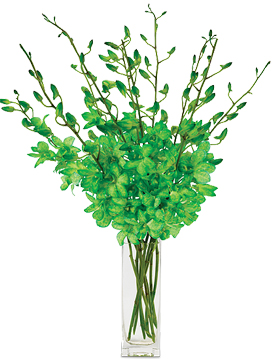 To take advantage of our St. Patty's Day specials today. It's your chance to make someone feel lucky and loved this week when they receive their beautiful bouquet. Happy St. Patrick's Day from us to you!